Shopping Cart Killer searched for victims in Mount Vernon and Harrisonburg. Photo taken by the Fairfax County Police Department.
Police recently dubbed the killer of four women the "cart killer", linking him to victims in Mount Vernon and Harrisonburg. The gruesome case has a suspect in custody at Rockingham Jail in southwestern Virginia.
"He meets victims on dating sites," Fairfax County Police Chief Kevin Davis said during a Friday, Dec. 17 briefing. "He preys on the weak and the vulnerable," Davis added.
Two of the four victims, women ages 34 and 54, were found in a lot near Harrisonburg, Virginia on November 23. FCPD worked with Harrisonburg Police Chief Kelley Warner to connect the cases through digital data. According to the Harrisonburg Police Department, the two individuals have been identified as Allene Elizabeth "Beth" Redmon, 54, of Harrisonburg and Tonita Lorice Smith, 39, of Charlottesville.
The other two victims were found last week near the Moon Inn in the 6100 block of Richmond Highway. "The remains were in a container near a shopping cart in the 2400 block of Fairhaven Avenue in the Alexandria section of Fairfax County," police said.
In this case, a shopping cart was spotted in a wooded area near the highway, and upon further investigation, police found a container containing "what appeared to be human remains," the insider said. Major Ed O'Carroll, Chief of the Major Crimes Bureau. , Cyber ​​and Forensics.
One such victim found in Mount Vernon has been tentatively identified as Cheyenne Brown who had a distinct tattoo, but police are still awaiting DNA confirmation to positively identify her.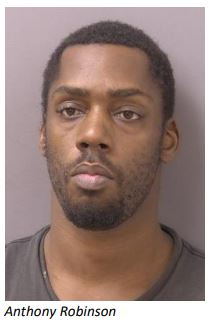 The Harrisonburg Police Department arrested Anthony Robinson, 35, of Washington, DC on Tuesday, November 23. Robinson is charged with two counts of first-degree murder in addition to two counts of concealing, transporting or altering a corpse, Harrisonburg police said.
Through further investigation, he was linked to the Mount Vernon murders. "We have determined that the suspect in Harrisonburg was communicating with Miss Brown," Davis said.
According to FCPD officer Tara Gerhard, it was the phone data that linked Robinson to the Mount Vernon murders. "Our detectives wrote a search warrant for the cell data and confirmed that Ms. Brown and the suspect were in the same location the night she disappeared," Gerhard said.
The fourth victim has not yet been identified. "The breakdown was so bad," Davis said.
Detectives continue to pursue additional leads and would like to hear from anyone who may have information about Robinson, this case, or who may have had past interactions with Robinson. To contact detectives, please call the Major Crimes Bureau at 703-246-7800, option 2.